2 October 2008
Jeff Carlson – Plague War
Posted by Dirk under: books .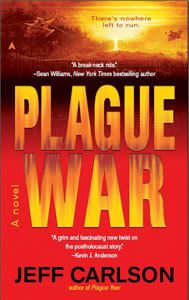 The sequel to Plague Year, which I read a little while ago.  I liked this book too.  This book starts pretty much right where the other left off.  A small group of survivors on the ground in California trying to get a possible cure for the nanite plague to others while at the same time remnants of government forces are trying to get the possible cure for themselves in order to top dogs in the new world order.
And Russia and China invade California.
Quite a bit of action. Large masses of bugs and snakes, case you like that sort of thing.  Gutsy survivors doing what they gotta do.
Leave a Reply