12 August 2008
Jeff Carlson – Plague Year
Posted by Dirk under: books .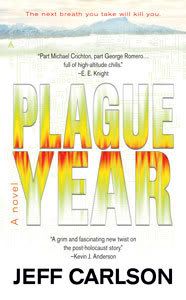 A pretty good science-gone-bad thriller with a mean pulse running through it. Sometime in the near future some nanotech escapes from the lab and starts killing people by basically eating them from the inside out. The nanites have a built in fuse, at 70% of standard atmosphere they self destruct. You have to go up to approximately 10,000 feet altitude to hit that percentage. All the survivors on earth are above that altitude, huddled on the tops of the worlds tallest mountains. Everything warm blooded below is dead.
The survivors have a tough time of it. The first line of the novel is "They ate Jorgensen first." Not much grows above 10,000 feet and it gets pretty darn cold up there. Think Donner Party.
The novel is about the efforts of one group of survivors to get from their mountain top to another mountain top that looks like it has better resources and the efforts of the remnants of the U.S. Government, based in the Rocky Mountains, and the International Space Station to find a solution to the nanite problem.
Plague Year is the first book in a trilogy. I'll be looking for the other two. You can watch a video trailer for the book at the author's website. I'd suggest sticking with the youtube version on the site.
One Comment so far...
Leave a Reply