28 February 2008
Steven Erikson – The Healthy Dead
Posted by Dirk under: books .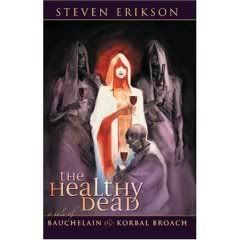 This little book is set in the same world as the Malazan Book of the Fallen series, but it's not really a part of that series. For one thing, it doesn't meet the size requirements at all, being only 128 pages to The Bonehunters nearly 800. It also doesn't read very much the same. In fact, if this had been my introduction to Erikson and this series I don't know that I would have looked for anything else he wrote.
The Healthy Dead stars two oddball characters that have wandered through the Malazan series a couple of times, Bauchelain and Korbal Broach, a couple of nasty wizard types that travel a lot.
I really wouldn't recommend this book unless you are a big fan of the series and want to read everything set in this wonderful world that has been created. I certainly don't think you should read it before you read any of his other books.
Leave a Reply