16 August 2009
Charlaine Harris – An Ice Cold Grave
Posted by Dirk under: books .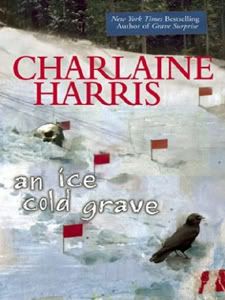 Harris is best known for her Sookie Stackhouse vampire books, which have been made into a hit show on HBO called True Blood.  This is the third book in another series of hers.  The main character in this one was struck by lightning and since then she has been able to sense dead bodies and get some visions/impressions of how they died.
So she drives around the country with her step-brother and they find bodies for money, or go to graveyards and 'sense' a dead person for a relative, to see if that person died they way they think they did.
And of course, you do that sort of thing eventually you are gonna run into some bad people, which is what happens in this book.  She is asked to help find some young men that have vanished and finds out a serial killer is working the area.  Mayhem ensues.
It's a fun and easy read.  If you liked her vampire books you might like this one too.  I haven't read the first two in this series but this one seemed to stand alone ok.
Leave a Reply