27 May 2008
Cecelia Holland – Varanger
Posted by Dirk under: books .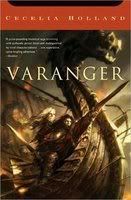 A fairly gritty historical fiction novel about Vikings. First book I've read from Cecelia Holland and I liked it pretty well. Apparently this is the 4th book in sort of a series but it stood alone just fine. The two main characters are cousins. One is a warrior jock and the other a bit more introverted with sort of a mystic ability to navigate or something like that.
Also has a Muslim guy who is looking for converts (or spying) and some proto-Russians that are kind of assholes for the most part. Even the two main characters are fairly brutal.
I picked it up at the library cause it was in the new arrivals and I liked the cover. Glad I tried it out.
Varanger
Leave a Reply