18 October 2008
Ralph "Sonny" Barger – Ridin' High, Livin' Free: Hell-Raising Motorcyle Stories
Posted by Dirk under: books .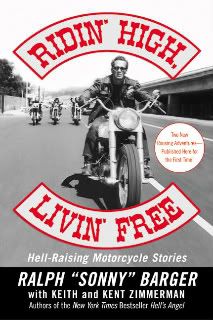 This was one of those books that I saw at the FotL used book sale and thought "SCORE!".
Sonny Barger has been a Hells Angel since 1957.  He's gotta have some great stories to tell.  If there was one thing I was not expecting when I bought this book it's that the book would be boring.
But it is.  I thought so anyway.  There might be some exciting stories further on in the book but I wouldnt' know because I didn't finish it.
Boring is about the worst sin a book can have for me.
I'm sorry the book was boring. I was looking forward to some 'hell-raising motorcyle stories'.  Oh well.
Leave a Reply