17 September 2007
David Anthony Durham – Acacia
Posted by Dirk under: books .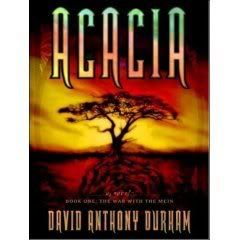 I liked this book.  If you like George R.R. Martins "Game of Thrones" you'll probably like this too.  A 500 year old empire is brought down by invading hordes.  The 4 royal children are sent into the wind to escape and mature.  Nine years later they work towards getting their empire back.  Often while reading this I was reminded of other books.  The Game of Thrones was one, with the basic plot being what it is.  Also, I though of Dune a time or two while reading about the Mist drug and the freakish trading guild that runs it.  And the deadly Maseret dance made me think of Dune also, from it's name (reminded me of the Bene Geserit) and the description of it made me think of Sting in the movie version, for some reason 🙂  Also, when I first read the description of the horde from the north, the Numreks, they sounded like they would fit right into one of Steven Erikson's books.
The fight scenes are written well.  Like GRRM, Durham doesn't mind killing off a character or two.  I'm not sure I like the way the book ended.  I'm not saying it wasn't written well, I just didn't like it on a personal level 🙂
5 Comments so far...
Leave a Reply