29 April 2008
Donald E Westlake – Bad News
Posted by Dirk under: books .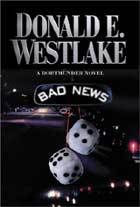 I've only recently discovered Donald E. Westlake and his multiple pseudonyms (especially Richard Stark) and I am happy to have finally done so.  As Richard Stark he writes hard boiled crime about Parker (the movies Point Blank and Payback were both based on the first book in the Parker series) and under his own name his most famous books are the ones about Dortmunder, which is what Bad News is.
As hard boiled and serious as the Parker novels are, the Dortmunder books are funny.  Dortmunder is a criminal genius with really bad luck.  I got this book through the Paperback Swap site and I have a stack of other books that were in ahead of this one in the 'to be read' stack, but I cracked this one open and got hooked right away.  The other books just had to wait.
If you like the funny and you like crime novels, you really should check this one out.
Leave a Reply