16 August 2009
Iain M. Banks – Matter
Posted by Dirk under: books .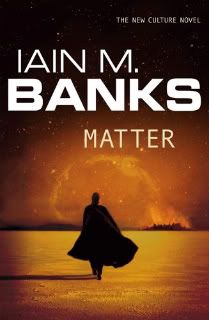 I'm surprised Iain M. Banks isn't better known in America.   I think his novels set in the universe of The Culture are pretty great space opera type fiction.  I don't think he's won any of the major SF awards though, which is a shame, cause I think he deserves some.
Matter is his latest book in The Culture universe.  I liked it but I think it was a bit weaker than some of the earlier ones, mainly because of the abrupt ending.   Despite that, it's still damn fine reading.  If you haven't read any of his books and want to check him out, I'd say start with one of his others, Consider Phlebas, The Player of Games or The Use of Weapons. All three  of those are fantastic.
Leave a Reply