21 December 2008
Roger Zelazny – Damnation Alley
Posted by Dirk under: books .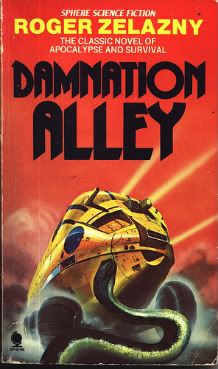 Fairly dated post-apocalypse book.  The last Hells Angel is drafted to drive from L.A., across the nuclear wasteland that is middle America, to Boston to deliver drugs needed to stave off an epidemic that is killing everybody.
Not one of Zelazny's better books. 🙂  But probably better than the movie they made of it, which starred Jan-Michael Vincent and George Peppard.
If you're really into post-apoc books, check it out.  Or a real Zelazny nut.  Otherwise, it's pretty skippable.
Leave a Reply