8 December 2008
Joe R. Lansdale – Leather Maiden
Posted by Dirk under: books .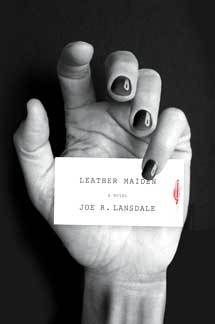 I was worried after the last Lansdale book I read left me with a bad taste in my mouth but this book has the old Lansdale magic.  While Hap & Leonard are still my favorite Lansdale books, this one is pretty good too.
A dude goes back to his hometown to work for the local newspaper and gets involved in some local shenanigans that keep getting weirder and weirder.
Adds another name to the list of bad ass buddies of detectives with the character of  'Booger'.
I don't care for that cover but the book is pretty good.
Leave a Reply