11 August 2008
Ch-ch-changes
Posted by Dirk under: musings; politics .
My sister and niece were in town for most of the week again and I always enjoy hanging out with Evangeline. This weekend my brother in law came down also and was here for a couple of days. We went down to the farmer's market on Saturday morning and at the market there were some Obama supporters that had set up a table and had pamphlets to hand out and shirts to sell and a poster hanging from their table.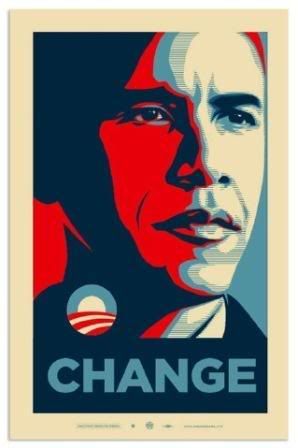 The BIL is pretty much a Republican but he thinks Bush and his cronies are morons and are destroying the country. I'm pretty sure he isn't a McCain supporter either. Him and my sister were both rooting for (and might still be rooting for) Ron Paul.
As we walked by the Obama table the BIL loudly said, in a rather disparaging voice "Change, they keep saying 'change' but they don't even know what that 'change' is". Referring, of course, to the Obama poster and those people that want Obama's change.
I was thinking about this as we were walking along and I suppose to some extent he's right. I haven't read through all of Obama's positions on everything and I probably won't.
The thing is, if you're walking down a dark alley and 3 guys jump out of the shadows, beat the crap out of you, take all your stuff, bend you over a garbage can and start corn-holing you and then some other guy walks by and says "Hey, want me to change this situation for you?", chances are, you're not going to ask him how exactly he's going to change the situation because pretty much any change would be better than the position you are currently in.
And that is pretty much why I'm all for Obama's "change' and hope that it actually is a change and not just a new guy with a smaller dick standing behind me pumping away.
4 Comments so far...
Leave a Reply