26 June 2008
Neal Stephenson – Quicksilver
Posted by Dirk under: books .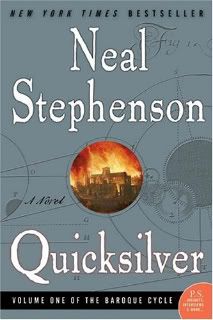 Neal Stephenson is a niche superstar. If you're into writing code and reading science fiction there's a good chance you've read at least some of his books. The three things that he wrote that made him so big in his niche are the novels Snow Crash and Cryptonomicon and a non-fiction piece called In the Beginning was the Command Line, which you can read online here.
I loved both of those novels. Snow Crash is one of my favorite books ever.
Quicksilver is the first part of the three part Baroque Cycle. I started reading Quicksilver when it first came out but was sidetracked and never finished it. A few months ago I picked up all three books in the series used and cheap so I decided to give it another shot.
It's a huge book. 900 pages. I was in Barnes & Noble the other day and saw they were selling the paperback version as three separate books.
The Baroque Cycle is sort of a prequel to Cryptonomicon. It has one character that it shares (the mysterious and long lived Enoch Root) and two families that are in both, the Waterhouse and Shaftoe clans.
The main characters in Quicksilver are Dr. Charles Waterhouse, a contemporary of Isaac Newton; Half-Cocked Jack Shaftoe, King of the Vagabonds; and Eliza, a freed slave girl who rises to the upper stratus of society.
The book has a ton of historical references. It's not a book that is easily skimmed. I've been trudging through it for weeks now, switching off with other books along the way. I think I'm going to have to take a break before I start in on book 2, The Confusion.
I liked it though. Jack Shaftoe is my favorite character but there are other cool characters throughout the book.
Leave a Reply