19 August 2007
Tim Powers – The Anubis Gates
Posted by Dirk under: books .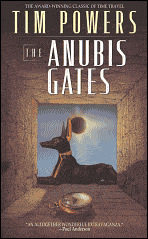 I recently reread this great book. Back in the 80's I went on a Tim Powers kick and read everything of his I could find but I loaned out most of his books to a guy that moved to Wyoming or someplace and I sort of forgot about how great these are.
This is a time travel book. It has Lord Byron, ancient Egyptian magicians, an evil clown, gypsies, a werewolf (of sorts), scary experimental rejects kept in the basement, and even mamluks.
It's a really awesome book and I highly recommend it if you like fantasy adventure novels at all.
Leave a Reply