13 October 2007
The Black Swallow of Death: The Incredible Story of Eugene Jacques Bullard, The World's First Black Combat Aviator
Posted by Dirk under: books .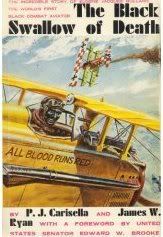 A while ago I watched a pretty mediocre movie called Flyboys. The movie claimed to be based on a true story so I looked it up. One of the characters was based on a man named Eugene Bullard. I read the wikipedia entry for Eugene and he sounded like he had a pretty interesting life story. I looked online and it turns out that our local library had a copy of the book written about him [P.J. Carisella, P.J., James W. Ryan and Edward W. Brooke. The Black Swallow of Death: The Incredible Story of Eugene Jacques Bullard, The World's First Black Combat Aviator. Boston, Massachusetts: Marlborough House, 1972.]. I put in a request for it and read it.
I can't say that the writing thrilled me but the man's life story is so interesting that I finished the book. I won't go over all the stuff that Mr. Bullard did in his life. That's covered pretty well in the wikipedia entry I linked above. If that isn't enough for you then I suggest you try to find this book and check it out.
Leave a Reply