2 October 2008
John Burdett – Bangkok Haunts
Posted by Dirk under: books .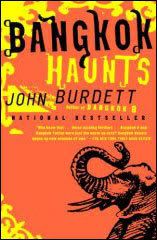 This is the third book featuring police detective Sonchai Jitpleecheep.  Sonchai is a Buddhist and his mom runs a whore house.  Kind of  an odd combo.  I like the books a lot though.  This one has ghosts and Khmer Rouge thugs and lonely FBI chicks and lots of porn.
I don't know how much of what Burdett writes about Bangkok and Thai culture is correct, but I enjoy the books not just for the characters and plot but also for the glimpse it gives me of another culture.
Leave a Reply