30 July 2008
Alexandra Fuller – Scribbling The Cat: Travels with an African Soldier
Posted by Dirk under: books .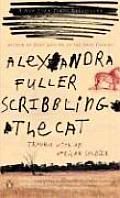 The final catch up book posting from my camping trip. Alexandra Fuller wrote a previous book about her childhood growing up in Africa called Don't Let's Go To The Dogs Tonight: An African Childhood and I really dug that book. When I saw this one on the used bookstore shelf I snatched it like Daniel-san grabbing a fly outta the air.
This book is also a memoir. Basically the story of Fuller's meeting and travel across parts of Africa with a former soldier called 'K'. K is a veteran of the Rhodesian War and apparently did some bad shit which haunts him still. The trip across Africa is an attempt to come to terms with some of the demons that still bug him.
I think I liked her first book better. I recall it being funnier than this one and I almost always like the funny. Although the first one wasn't all funny, by any means nor is this one all serious. The description of K's encounter with a male lion that another old soldier keeps as a pet had me laughing.
If you like memoirs or stories of Africa, check it out.
Leave a Reply