30 July 2008
Brian Keene – The Conqueror Worms
Posted by Dirk under: books .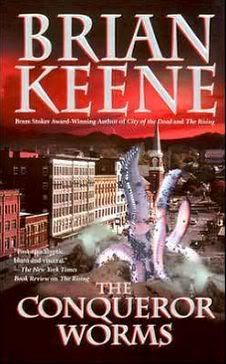 A bleak horror story.  It starts raining and doesn't stop.  When the book starts it's been raining for something like 40 days and most of the world is flooded.  The first third of the book is written from the perspective of an 80 year old dude that lives alone up the mountains of West Virginia.  The closest town to his home is underwater and there are giant worms going around eating whoever or whatever is left.
Then the book jumps over to a flooded Baltimore where a young video store clerk is living in the top levels of a skyscraper along with a few other survivors, trying to get by while 'Satanists' sacrifice people and attempt to summon End Of The World monsters at a nearby skyscraper.  A mermaid shows up.  Things get worse.  Much worse.
Then we go back to the West Virginia to wrap up the book.  We never find out what is causing the continual rain or the critters, which kinda sucks.  I like my escapist reading to wrap things up.  I'll probably look into getting some of Keene's other books though.
Leave a Reply