22 July 2008
A. Lee Martinez – Gil's All Fright Diner
Posted by Dirk under: books .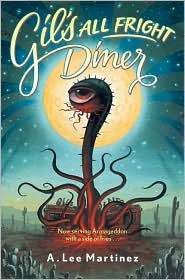 A werewolf and a vampire are traveling buddies, driving across the country, drinking beer and trying to stay out of trouble. They walk into an old diner in the town of Rockwood and get involved in what might be the end of the world, unless they can stop it.
A fun little book. Not really laugh out loud funny, though I might have chuckled a few times, but it's a an easy and amusing read.
Has ghosts and ancient Evil Gods and Mistress Lilith, Queen of the Night; a teenage witch trying to bring about the apocalypse.
I liked it enough to order another of Martinez's books through the Paperback Swap website.
Official A. Lee Martinez website
One Comment so far...
Leave a Reply