5 June 2008
Stephen Hunter – The Master Sniper
Posted by Dirk under: books .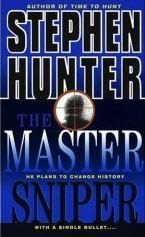 Apparently Stephen Hunter really likes rifles and the people who shoot them.  This is not a book in his series about master sniper Bob Lee Swagger (or his dad, Earl) but it is still about snipers (case you couldn't tell from the title).  This time the sniper is a dastardly Nazi and the good guys are some British and American spy type guys who get some info about a super secret evil Nazi plan (which involves the master sniper Nazi) and they have to figure out what is going on and swoop in at the last minute to stop the dastardly deed.
And that's about it.  Another action movie type novel.  If you liked Hunter's other books you'll probably like this one too.
Leave a Reply