21 August 2007
Tim Dorsey – Orange Crush
Posted by Dirk under: books .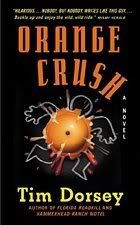 This is a fun book.  If you were not upset about how the last presidential election went,  you might not like it so much.
It's about politics in Florida, but waaaay exaggerated.  Well, maybe not that exaggerated. Very funny.  Basically, a golden boy of politics, sort of like the Bush that is down in Florida now, gets a conscience a short time before the election he is going to win.
It's a good vacation book.  Get the paperback and stick it in your pocket for when you have to wait someplace.
Leave a Reply